Welcome everyone!
Currently in the gallery:
Presidents' Show
July 2 to August 4
Congratulations to the award winners!
The Presidents' Show is the premiere show of the KAA calendar. An open show, it has the most generous prize list of any show offered.
Opening/Awards Reception - Saturday, 7/2, 2 - 4 pm
Closes - Thursday, 8/4, 5pm
Pickup - Thursday, 8/4 or Friday, 8/5, 3-5pm either day
This year's judges: Bob Crofut, Linda M. Nemergut and Michael Spross
Bob Crofut was born and raised in the picture-postcard New England town of Ridgefield, Connecticut where his family has lived for generations. Crofut, a 1974 fine arts graduate of Tufts University in Boston, describes his painting style as "soft focus realism." Techniques he has developed to give images a half real, half remembered quality – almost dreamlike – have been the focus of articles in The Artist's Magazine and other publications. Crofut also studied for four years at the Boston Museum of Fine Arts.
Linda M. Nemergut - a resident of Bethel - has lived all her life in Connecticut. She received an MFA in Illustration from Western Connecticut State University. She received a certificate in Botanical Illustration from the New York Botanical Gardens in 2012.Linda teaches art at Immanuel Lutheran School in Danbury CT. She also teaches at the New York Botanical Gardens. Accomplished in several media, Linda works primarily in silverpoint, watercolor and collage.
Michael Spross was born and raised in Clinton Corners, NY and grew to appreciate the beauty of the vanishing rural landscape around him. He received his BFA in Painting and K-12 Art Education Certification from Edinboro State College, PA. He then earned an MFA in Painting from SUNY New Paltz, NY. Having taught art in Millbrook High School from 1986 to the present, he has also been the Millbrook Central School Art Show Director, and Art Club advisor since 1991. He has been a featured artist at the Maplebrook Art Exhibit and Sale, has exhibited with the Nine Partners Art Guild, and is a member of the Kent Art Association.
---
Up next:
MEMBERS' II -

August 13 to September 2
The Members' II show is the second of two annual exhibitions showcasing recent work by members of KAA.
Receiving - Aug. 6, 10am–2pm
Opens - Aug. 13, 1pm
Awards Reception - Aug. 13, 2-4pm
Closes - Sept. 2, 5pm
Pick-up - Sept. 2, 3-5pm
---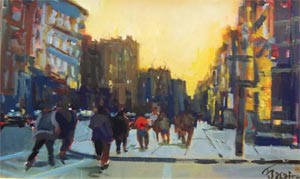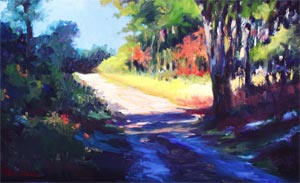 Three-day Acrylic Workshop with Frank Federico PSA, NWS
Aug 1-3 (Mon-Wed), 10am - 4pm, at the KAA Gallery
Paint landscapes and cityscapes in a coloristic and painterly fashion using acrylic paints.
This exciting three day workshop will include critiques of works in progress - any medium accepted - and acrylic painting demos, either landscape or cityscape. Students will also have ample opportunity to paint their own work, guided by Frank.
Please contact the Kent Art Association (860-927-3989) for more information or to register for the workshop. The fee for this workshop is $300 per person. Pre-registration is strongly encouraged.
---
On the Lawn: Sculptures by Chris Plaisted
The KAA gallery is proud to host the sculptures of Chris Plaisted. The lawn is home to the following four sculptures for the season:
"Dakota" Steel, wood, concrete (2014)
"Incipiency" Steel, copper, concrete (2014)
"Guardian" Wood, steel, copper, concrete, aluminum (2015)
"The Missing Line In Our Stars" Steel, concrete (2013)
---
ATTENTION PHOTOGRAPHERS!
New this year - we encourage photographers to join the KAA. Member photographers may submit their fine art photography to either the Small Works or the Portfolio show, run concurrently with our main gallery shows. In addition, there will be a dedicated photography show in the fall.
---
The 2016 KAA Show Calendar is available (revised as of 2/5/16). There are some exciting new opportunities planned for the year.
Download your printable PDF copy of the 2016 Calendar here.
Two new shows have been added to the schedule: a Fall counterpart to our popular Spring Juried Show, and the "Show for Shows" - a show aimed at connecting our member artists with area galleries. Stay tuned for more information!
---
The latest news from our Facebook Events page...
---
Gallery hours:
March 13th to Oct. 11th -- Thurs-Sun. from 1-5 pm, plus Monday holidays
Oct. 23rd to Nov. 5th (NEWS Show) -- open every day, Noon to 4 pm.
Nov. 10th to 27th (Photography Show) -- Thurs-Sun, 1-5pm