Spring is Around the Corner!
Things are beginning to warm up outside — and at the gallery! We're working hard to make this a great season of shows, exhibits, and events — both for our artists and our gallery-going collectors!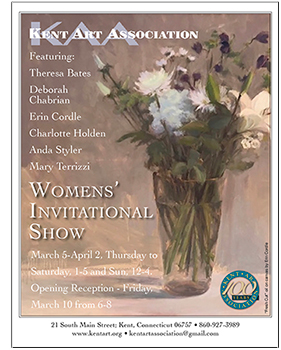 You won't want to miss the March Womens' Invitational Show" featuring 6 of our favorite women artists. This show will run from March 5 to April 2.
We promise more shows to come (check the calendar) and hope you'll be able to get that time in the studio to create some wonderful work to display with us. We're working hard to make the association a valuable resource for you as an artist or as a collector, so, whatever your preferences make time to drop by for the upcoming shows.
...and get in touch if you have ideas of ways we might make KAA better for you!
---
Coming Up
The Juried Photography Show! This show will be running from April 13th until May 7th. All you photographers should be getting your best work together for this one!
---
Note
New Sunday hours — 12 to 4
---
Donate
As we head into our 100th year, help us continue to create a vibrant, active and welcoming place for artists and those who love art by donating to our annual appeal!

Click Here to Donate and help the Kent Art Association become an even better resource!

You can also join or renew your membership for 2023 by visiting the Join Page on our website!

KAA thanks you for your continuing support.

---
If you're not yet a member, please join us! You can now sign up and pay for membership online.
Visit our
"Join KAA"
page for a link to the membership details and payment form.
Thank you for your continuing patronage. We hope to see you soon.
---

We are open Thurs, Fri, and Sat, and Sunday throughout the duration of this show. Our artists are also continuing to create wonderful work which may not be in the show. Please refer to our Members' Website page for links to their individual sites.