It is
in the contrast of light and dark that design happens.
Helen Van Wyk
Our History | Our Founders | Our Credo
KAA History
The Kent Art Association was founded in 1923 by nine established artists who were drawn to Kent in the Litchfield hills for its rustic and pastoral beauty: Rex Brasher, Elliot Clark, Floyd Clymer, Willard Dryden Paddock, F. Luis Mora, George Laurence Nelson, Spencer Nichols, Robert Nisbet and Frederick Waugh. Their commitment to excellence in representational artwork forged the groundwork for what was to become one of the oldest art associations in the state.

In the beginning, these founding artists held an annual show in which only their representational artwork was exhibited. As interest grew, more artists were accepted into the association and others were invited to be associates. By 1935, they had a membership which accepted a set of rules as the Association's By-Laws and were issued a Certificate of Incorporation by the State of Connecticut. In 1940, they were granted non-profit status.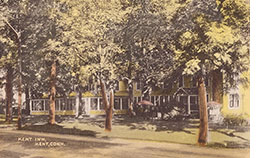 Up until 1956, the KAA held exhibitions in various community venues in town. In that year, the old Kent Inn, which stood in the center of town, was acquired and taken down by the Gulf Oil Co. to make way for a new gas station. After much opposition and concern for the potential loss of such an iconic building by the founding members, the Association was given a two-story section of The Kent Inn and the structure was moved down the road to South Main Street (Route 7). Over the years, architectural improvements were made through generous donations from the association's patrons to allow the entire interior to be converted into its present day galleries and meeting space.

Today, KAA is a vibrant organization with many artist members of varied artistic styles and backgrounds. In addition, many who simply appreciate the joys of diverse artwork are members and engaged in KAA's activities.

We hope you visit us soon!


---

The Kent Art Association Founders
The Kent Art Association was founded in 1923 by nine well established artists who knew each other when they lived in New York before moving to Kent: Rex Brasher, Elliot Clark, Floyd Clymer, F. Luis Mora, George Laurence Nelson, Spencer Nichols, Robert Nisbet, Williard Dryden Paddock and Frederick Waugh. Six were National Academicians.
At first, the nine held an annual show in which only their work was exhibited. Later, more artists were accepted and others were invited to be associates. By 1935, they had a membership which voted upon and accepted a set of rules as the Association's By-Laws. (Read more on KAA history)
Read a brief biographical sketch about each founder:
Be sure to view some works in the Founders' Gallery.
Rex Brasher
Rex Brasher was born in 1869 in Brooklyn, New York, into an old Huguenot family. His grandfather Philip was a member of the New York State Legislature and was reputed to have helped to obtain a city charter for Brooklyn. Rex became passionate about birds at an early age, due to the influence of his father, an avid naturalist and bird taxidermist. In 1878, at the age of eight, Brasher determined to paint all the birds of North America from life--and better than Audubon. In the early 1930s he produced a limited edition set of books entitled The Birds and Trees of North America. This work included prints of 875 paintings showing over 1200 species and subspecies of North American birds. Brasher, who could not afford to have his work printed in color, is credited with having hand-colored all of the prints using airbrush and stencil.
In 1911, Rex spent a $700 commission received for illustrating a book to purchase a 150-acre farm in Kent, Connecticut. He called his farm Chickadee Valley. It was there in 1924, after 47 years of work, that he finished his task. His paintings included 1200 species and sub-species of birds listed on the American Ornithologists Union (AOU) Checklist of North American Birds.
Rex Brasher worked until two years before his death, when his eyesight failed him. He died in 1960, at his home in Kent, at the age of 91. His monumental achievement has earned him a permanent place among noted American wildlife illustrators. It is unlikely that anyone will ever again attempt to repeat such a comprehensive series of paintings.
Eliot Clark
Eliot Candee Clark was the son of American artist Walter Clark and Jennie Woodruff Clark. Initially influenced by the tonalists, he came to develop a unique style of impressionism. Eliot grew up painting under the guidance of his father, practicing out-of-doors, using pastel and watercolor. A child prodigy, Eliot submitted his first work to the New York Water Color Club at the age of nine and, in 1896, at age thirteen, to the National Academy of Design, where he exhibited almost annually until 1980. In the last year of the nineteenth century, Eliot and his father shared a studio in New York's Van Dyke Building. And, by 1900, the work of the seventeen year-old was accepted for exhibition at the Society of American Artists' annual.
Painting with his father and some of Walter's friends, including John H. Twachtman, Edward Potthast, Joseph R. DeCamp, and Frank Duveneck, in Gloucester, Massachusetts, Eliot mastered the tonalist style and began to assimilate a few of the salient features of impressionism. Both Clarks admired the paintings of George Inness. In 1904, Eliot left for a two-year sojourn in Europe, where he traveled from Giverny to the Alps, from Venice to London, before returning to New York in 1906. Back in the Van Dyke Building, Eliot enjoyed the company of Bruce Crane, Karl Anderson, and others of his generation. Here, he painted in a typical impressionistic style, featuring the effects of sunlight and a spontaneous application of brightly contrasted dashes of color. Soon, the impressionist formula had been mastered, and Eliot began adapting it to his own interests. Following in the footsteps of his busy father, Eliot was presented with his first major one-man show at the Doll and Richards Gallery in Boston. His career picked up momentum as he exhibited regularly in national shows throughout the first decade of the century. In 1912, his works were seen in a one-man show at the Louis Katz Gallery in New York. He also won the Third Hallgarten Prize at the National Academy for Under the Trees. In 1915, President Woodrow Wilson honored him by purchasing one of his paintings. A three-man show at the Milwaukee Art Institute in 1919 included the works of Eliot Clark as well as to those of George Elmer Browne and Walter Griffin. And, while teaching at the local art club, Eliot exhibited at the Telfair Academy of Savannah, Georgia, in 1924.
Balancing his teaching at the Art Students League with visits to the Grand Canyon and Santa Barbara, California, Eliot's exceedingly diversified background included writing as an art historian. In 1916 he published his first monograph on one of America's great landscape painters, Alexander H. Wyant. Following a trip to Nova Scotia, where he executed a few bright and spontaneous works, Eliot continued his writing with an article for Art in America about America's pioneer impressionist, Theodore Robinson. His other works included a book on John Henry Twachtman, published in 1924; History of the National Academy of Design, published later in 1954; and, prompted by the success of his article, a major monograph on Theodore Robinson, scheduled for publication in 1920. This latter manuscript was never taken to press, however, and remained in the artist's possession until its publication by R. H. Love Galleries of Chicago in 1980. Clark served as president of the American Watercolor Society between 1920 and 1923. As an art historian, Clark is among the best of his time. His article on Twachtman (Clark, 1919-B) is refreshingly formalist-oriented, considering its early date; it lacks the anecdotal, home-spun quality of many contemporary writings, which deal mainly in platitudes and genteel generalities.
Following his marriage to Elizabeth Trowbridge Eggleston in 1921, Eliot spent the winter painting in Kent, Connecticut. In 1923, he camped in the deserts of California and Arizona in an effort to achieve the best atmospheric effects in his plein-air manner. Beginning in 1933 he taught summer school classes in Charlottesville. Between 1956 and 1959 Clark served as president of the National Academy of Design. Throughout the remainder of his life, he continued his work in both writing and painting until his death in Charlottesville, Virginia at the age of ninety-seven. (Quoted from rogallery.com)
James Floyd Clymer
James Floyd Clymer ( 1893-1982 ) known for his Regionalist style of land, sea and cityscapes, created paintings with an emphasis on color and form. His works possess a clear and simple style, easily understood by the masses.
He attended Drexel University in Philadelphia, studying Art and Architecture and worked as an Architect in the years following World War I. Clymer met and married the artist Gwenyth Waugh, daughter of the renowned marine painter, Frederick Judd Waugh. His thrust then changed from Architect to Artist. In the early 1920's, Clymer and family settled in Provincetown, MA and quickly became associated with notable artists such as Helen Sawyer, Edwin Dickinson and the Waughs. About 1940, Clymer moved to New York City, and in 1946, he and his family settled in a home on Schunnemunk Mountain in New York (close to Newburgh, New York, in the Hudson River Valley).
Clymer worked with ease in the mediums of watercolor and oil painting, and pursued a highly personal style, making it difficult to link him to any one art movement. He was adept at blending naturalism and abstraction, while maintaining a respect for and a keen observation of nature.
He was born in Perksie, Pennsylvania and died in Schunnemunk Mountain, NY.
Francis Luis Mora
Francis Luis Mora was born in Uruguay in 1874. His parents moved to the USA when the boy was young. His father was a sculptor who shaped Mora's early art training. His brother was Joseph Jacinto (Jo) Mora (1876-1947), who would become a noted California artist. The Mora family's artistic lineage went back to eighteenth-century Spain.
Becoming an illustrator in the late 1800s, Mora handled illustration assignments for major magazine titles: Collier's, Sunday Magazine, Ladies' Home Journal, Century, Harper's, as well as books. Comfortable in any medium, from watercolor to oil to pencils, in any size from miniatures to murals. His portrait of President Harding is displayed in the White House.
Mora kept pocket diaries, 1899-1922, containing brief daily entries and some sketches. He wrote about his work, including commissions for his paintings, murals, and illustrations, occasionally listing works sold, price and buyer information. His paintings usually depicted leisurely life, figures, interiors and landscapes. Mora worked in oil, watercolor, charcoal and pastel.
In 1904, Mora was elected an Associate at the National Academy of Design, and became a full member in 1906. He was the first Hispanic to be elected to the NAD, and he became an exhibition jury member in 1907. Mora was also a member of The National Arts Club, The Art Students League, The Salmagundi Club, The Pen and Brush Club, The Architectural League, The American Watercolor Society, and other art societies
George Laurence Nelson
Nelson was born George Laurence Hirschberg in New Rochelle, NY, on September 26, 1887, the son of Carl and Alice Kerr-Nelson Hirschberg, and the youngest of three brothers. His parents were artists of no little repute on both sides of the American and European scene. As a young man, he went to Paris to study.
In 1904 his crayon sketch of a cow won first prize, a pair of skates in a contest sponsored by Crayola Crayons. It would be the first in a legion of awards and prizes that he would gather during the long years ahead. After graduation, he returned to New York City to enter the Art Students League to begin his formal study of art.
Before he finished his education, he became one of the prime movers and shakers in the American Art movement, first as reorganizer of the Art Students League and then as co-founder of the Salmagundi Club in 1875. He became an Associate National Academician in 1929 and a National Academician in 1942. After much experimentation Nelson was successful at combining the two elements of line and color that would result in forming a creative personal style.
He was a member of the Connecticut Academy, American Watercolor Society, and Allied Artists of America - President, 1941-43.
Nelson lived a good part of his life in Kent, Connecticut and from 1954 to 1968, he was president of the Kent Art Association.
Spencer Baird Nichols
Spencer Baird Nichols was born in Washington DC in 1875 and died in Kent, CT in 1950.
His father, Henry Hobart Nichols, a wood engraver who won a gold medal at the 1876 Centennial in Philadelphia. Spencer became an Associate National Academician in 1922 and a National Academician in 1933. His brother, Hobart Nichols was also an academician.
He childhood was spent in Washington, D.C. where he attended the Corcoran School of Art and the Washington Art Students' League. At the Corcoran he studied under Howard Helmick, a student of Whistler. At the age of 17 he was appointed an Instructor of Illustration at the Art Students' League.
Spencer worked for the Geological Survey and the National Museum. A portrait of Andrew Stephenson, Speaker of the House, by him, hangs in the Speaker's Lobby of the House of Representatives.
Illustrations of children's books were his favorite and he did Dickens's Christmas Carols, Oscar Wilde's Little Prince, and a number of books of poetry by Alfred Noyes published by Frederick A. Stokes & Company.
He was an Artist Member at The Salmagundi Club, the National Arts Club, and was elected as an Associate of the National Academy of Design, and in 1933 to the status of full Academician.
Much of Mr. Nichols work was destroyed in a disastrous fire in his house and studio in 1932.
Robert Hogg Nisbet
Robert Hogg Nisbet (1879-1961) s noted for his landscape, figure, genre, and etching work. He is associated with Connecticut art colonies including Old Lyme.
Nisbet was born in Providence, Rhode Island on August 25, 1879. He entered the Rhode Island School of Design when he was eight, and later studied in New York and abroad. He taught at Brown University and was president of the Art Students League of New York, where he served as president from 1909-1910.
He was elected an Associate Member of the National Academy of Design in 1920 and a National Academician (N.A.) in 1928. He was an Artist Life member of the National Arts Club. One of the incorporators of the Society of American Etchers, he was also a member of the Philadelphia Society of Etchers. During the early 1900's, Nisbet summered in Old Lyme, Connecticut, and eventually settled in Kent, Connecticut, where he and his wife established a large home and a studio. They had no children.
His work won him three National Academy awards, several etching awards, and the National Arts Club (Painting) prize. His etchings and paintings were exhibited in Paris, France, Yale University, Metropolitan Museum of Art, New York Library, National Gallery, Smithsonian Institution, and Library of Congress in Washington, D.C.
Willard Dryden Paddock
Willard Dryden Paddock was born in 1873 in Brooklyn, NY and died in 1956. He was a pupil of Herbert Adams in New York, Pratt Institute in Brooklyn. He was the first man sent by Mr. Frederick Pratt on a two-year scholarship to Europe. This was in 1895, before he was 20. He studied with Courtois and Birardot in Paris. He also studied in Italy.
He was accepted as an Associate Member into the National Academy of Design in 1922. Beginning in 1927, he was a member of the faculty at Pratt Institute.
After WWI, he received commissions to create many memorials including The Whittier and Grant memorials in Saginaw, Michigan, Noah Webster memorial, Amherst College, Amherst, Mass.; the Alfred Nobel memorial, Engineering Societies Building, New York, NY; and the Orr and Jessup relief, New York Chamber of Commerce.
Paddock was a painter as well.
His work varied in size from small pieces in which he seems to have achieved his happiest results and the charm of whimsical fancy to monumental structures.
He was a member of the National Sculpture Society, Allied Artists of America, the Guild of New York Artists, and the New York Architectural League.
Fredrick Waugh
Fredrick Waugh was born in Bordentown, New Jersey, studied at the Pennsylvania Academy of Fine Arts and, in 1882, went to study at the Academie Julien in Paris. Thereinafter he spent most of his time in England and France, taking up residence as a painter on the Channel Island of Sark. In 1908 he returned to the United States as a mature and fully trained painter.
Frederick Judd Waugh strove to convey the powerful movement of the water and the smell of the brine. He was also an illustrator, a writer of children's books, a bookplate designer, a designer of silver and copper objects, and a camouflage artist during World War I.
He was one of the greatest marine artists of the early twentieth century. He was considered the successor to Winslow Homer and his pictures were often compared with those of Homer, but, through circumstance, he may never have seen a Homer painting until after the latter's death.
Frederick Waugh also maintained a studio in Provincetown, Massachusetts where he lived during the last part of his life. Waugh is also well known for his instruction books on how to paint the sea, including, Painting by the Sea and Seascape Painting, Step by Step with a Knife. He also wrote The Clan of the Munes and illustrated for the London Graphic and the London Daily Mail early in his career.
---
Credo
OUR MISSION
Kent Art Association provides emerging and established artists a venue to display artwork to a wide audience, recognizes artists for their achievements, and presents art related programs for the education of artists and the public.