Coming Up!
Kent Art Association
Men's Invitational Show
The show will run from December 8th to the 30th, Thursday-Saturday from 1-5, Sunday from 12-4. The Opening Reception will be held Friday, December 8th from 6-8. (Closed Christmas and New Year's Eves.)
Featured Artists: Scott Bricher, Ed Martinez, Kenny Litwack, Ismael Checo, Tomas Savrda, Robert Adzema, Plamen Petkov
At left: Ismael Checo's painting, " #18-contra Luz"


---
Now at the Gallery!

The Fall Juried Show!

Congratulations to this year's Fall Juried Show award winners:
Best in Show - Heather Scofield for her painting "Housatonic Harmony".
Patricia Anne Stockdale Memorial Award for Best Fiber Art - Karen Eckmeier for her quilt art "Jungle Flowers".
Judy J Grabe Memorial Award for Best Floral Painting - Barbara Ripps for her pastel "Awakenings".
Best Photo - Linda Hubbard for her photo "Stillness".
Honorable Mentions go to Brian Johnston, Carol Moore, Karen Bahrenburg, and Mary Terrizzi.

Many thanks to our judges, Muriel Stockdale and Chris Grabe!

The Fall Juried Show has been extended one week. Last day is now December 2nd when we will be open until 8:00pm for the Kent Holiday Festival!


---
Become a Kent Art Association Centennial Sponsor!
If you wern't able to make it to our 100th Anniversary Gala event you can still be there in spirit by becoming a KAA Centennial Sponsor and donating to the KAA Centennial Fund!
There are a number of ways to do this and all donations are greatly appreciated.
Donation levels:
Centennial Benefactor - $1,000, Gala Sponsor - $500, Founders Circle - $250, Centennial Supporter - $100, Centennial Friends - $50
These funds will go towards upgrades for accessibility of the upstairs galleries with a handicap elevator, maintenance of our historic building, renovations of the basement area to turn into studio and workshop space, overall operations and at the same time, remaining free to the public for our shows and events.
So please consider donating and becoming a KAA Centennial Sponsor and help us usher in the next 100 years!
Mail your donation to:
Kent Art Association Centennial Fundraiser 
PO Box 202
Kent, CT. 06757
Remember, Kent Art Association, Inc. is a 501-c3 non-profit organization.

---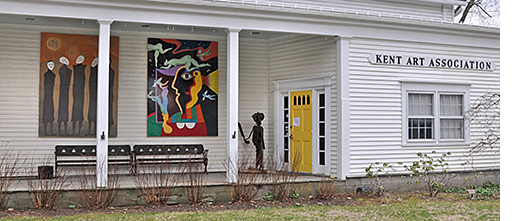 If you're not yet a member, please join us! You can now sign up and pay for membership online.
Visit our
"Join KAA"
page for a link to the membership details and payment form.
Thank you for your continuing patronage. We hope to see you soon.
---

We are open Thurs, Fri, and Sat, and Sunday throughout the duration of this show. Our artists are also continuing to create wonderful work which may not be in the show. Please refer to our Members' Website page for links to their individual sites.